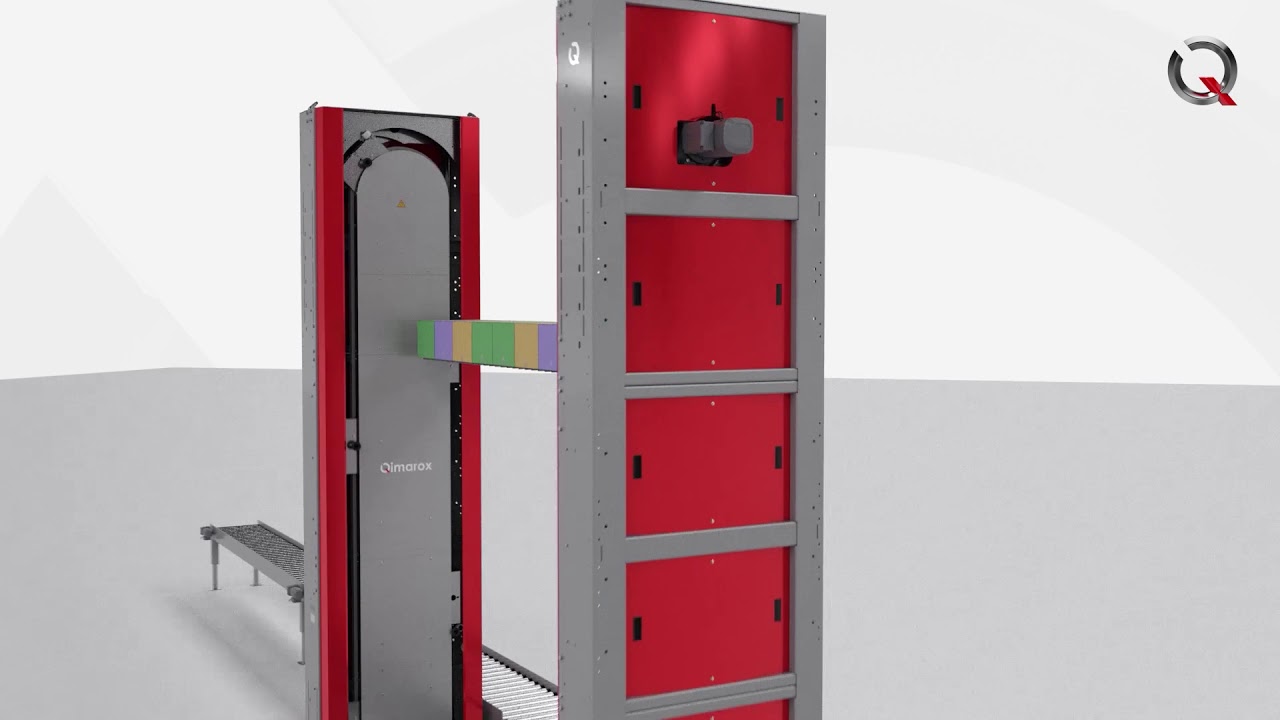 A modern 3D Production Presentation of a vertical conveyor
The video shown is a fragment of the full video
The leading material handling manufacturer Qimarox invented an innovative vertical conveyor to buffer and transport with high capacity. This product is a valuable contribution to their portfolio, solved challenges their relations face and brings a high potential in other sectors. However, without a demo model, it is hard to convince (potential) customers, especially since they are over the world. To prevent high prototype and presentation costs, Indall was looped in when it was just a good idea and some notebook sketches. They translated the concept to a presentation which isn't just appealing to watch, but also physically correct, inspires and moves the product closer to the realization phase.
"Indall is capable to translate a technical concept into a clear and attractive presentation, with little input. A product animation served as a preliminary demo model, which helped us convince customers and inspire internal stakeholders. This accelerated the sales process and saves us expensive demonstration models" – Pieter Hannessen, founder Qimarox B.V.
From product concept to convincing presentation
As a creative agency with years' experience in the material handling sector, Indall thinks along on how to convince the target group on the Qimarox TwinSorter. By combining creativity and process management with engineering knowledge and expertise, a striking presentation is developed, exceeding the client's expectations.
Increased results and reduced costs
New application possibilities are shown with clear video renders, to inspire a diversity of sectors. This is done, while taking the critique balance between content, target group and tension arc and the type of digital format in consideration. The preliminary visualization had multiple advantages:
With a powerful 3D animation, the production presentation is converted to a digital experience, eliminating expensive demonstration models. Furthermore, a unique animation which deserves its attention, increases the credibility of the company and touches emotions. This makes that the presentation will have a higher recollection rate.
Not just the standard configuration is shown, but also important details, inspiring configurations and the context are exhibited. Integrations and end-users are inspired with the many options presents in this new system, likes the possibilities for e-commerce fulfillment.
A clear and digital version of the concept gives Qimarox' sales team the right tools to be confident sellers, and it acts as a modern brochure to relations.
Qimarox saved preliminary development costs of a prototype, and hence accelerated the development to the next phase. Furthermore, the presentation acquired a list of potentials, speeding up the production phase.
With plenty of knowledge in engineering, Indall actively thought along with further operation of the model and developed additional configurations. With expertise in both engineering and marketing, Indall was able to quickly realize the presentation and ensured the content where not lost in the communication.
Indall thought along with the technological development, as on a strategic level in the realization of the system. As a final deliverable, Qimarox received a product presentation with an extended product film in which the diverse configurations where shown. Currently, the vertical conveyor is in production and is the 3D animated product film effectively used by Qimarox' marketing- and sales team.